New Barnstaple Road, Ilfracombe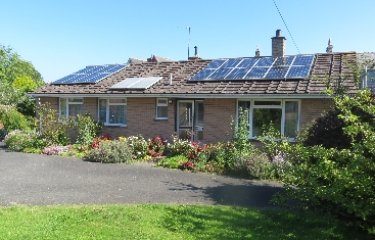 Energy-saving improvements
Location
Stratford, New Barnstaple Road
Ilfracombe
Devon
EX34 9PX
Opening times
20 - 21 Sep 2014
Visiting times to be confirmed
This event has now finished.
Just turn up
The solar thermal system was installed over 30 years ago and although basic compared to modern designs still produces a cylinder full of very hot water on a sunny day. The original windows were Critall steel framed. Replacement of these with uPVC double glazing took the chill off rooms in winter and reduced condensation. Cavity wall insulation also made a significant difference to the comfort of the building and could be argued to be the upgrade which provides most improvement for the money. The condensing gas boiler was smaller and more efficient than the previous non condensing model. Gas bills are low in summer due to relying on the solar thermal system for water heating. They are kept down in winter due to improved insulation and an efficient boiler. The bungalow has a large south facing roof which is ideal for solar PV system. A 4kW system was installed in July 2012 leading to significantly lower electricity bills. There are also feed-in tariff payments for every kWh of electricity that is generated.
Location
Stratford, New Barnstaple Road
Ilfracombe
Devon
EX34 9PX
Opening times
This event has now finished.
Other homes nearby